(other pages are listed at the bottom of this one)
David Searle is a Bass-Baritone, but has a two and a half octave range, so capable of singing a wide selection of numbers that many comparative vocalists would have difficulty in achieving. Vocal training from Rosemary Kay (Bournemouth) has helped greatly in realizing the potential of his voice - Thanks Rosemary! So, Theatrical Performances, or Cabaret. If you want the best and most versatile performer, you're in the right place.
Whether performing in...
Principal Roles in London's West end, (including starring at 'The London Palladium' twice!) -"Tailor made for the west end" said 'The Stage'. or Various TV appearances, including 'Maspalomas Carnival 2006', before an open air audience of 10,000+ and live TV coverage to over 60,000,000+!
Also, having performed with 3 Eurovision song contest winners, to... opening 'Gay Pride - Maspalomas' 2008 for an audience of approximately 17,000 people. or Europe-wide 'Masonic Functions', to being the 'Classiest Act' on the 'Cabaret Circuit'. and now enjoying life, and entertaining in The Canary Islands (primarily Gran Canaria).
At Last!
2011
What an amazing oppertunity this project was to have been involved with. Patricia Fitzpatrick of 'Cape Cod Cabaret' realised that there was an enormous gap in the music industry. Ever since love song duets CDs have been produced, they have ALL been sung between a man and a woman. They way society was now more accepting of the 'gay' lifestyle.... why wasn't there a CD with men singing about love, with other men. So she put this idea into practise with myself as one of the principle vocalists. The other principal vocalist was Raif, we were joined by David Atkinson, and Joey Infante (Broadway 'regular performer'). On the piano was Glenn Starner-Tate, (an amazing pianist). Together we created something truely unique, and very touching... and filled the gap in the music industry! :-) '
Gay Pride - Maspalomas '08
8th May 2008
I opened Gay Pride festival with 'Rudi', a very dear friend of mine. We sang 'Tell me it's not true' from the Blood Brothers. Later in the show, I performed 'Regresa a mi' (the Spanish language version of 'Un-break my heart', (accompanied by two dancers), immediately afterwards I sang 'Nessun Dorma'. There were an estimated 17,000 people in the audience. Unfortunately, Pride was not televised, although there are various clips on 'youtube', and a DVD is available of the show.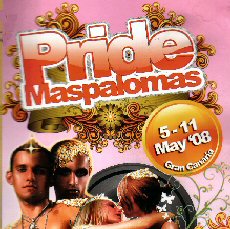 Pride website.
Gran Canaria's 'Wedding singer'
continuing.....
I have recently been asked to be on 'the bokks' of various 'Wedding Planners' to be one of their official Singers for their Legal Weddings and Relationship Blessings..
Gran Hotel 'Costa Meloneras'
summer season 2007
I sang at the top 5* hotel on the island of Gran Canaria. So this was where you could find me at the weekends, either Saturday or Sunday evenings.
Rossini's - Club Puerto Atlantico - Arguineguin
Spring 2007 continuing...
I am extremely proud to have been offered the opportunity to perform in this superb setting no less than 2/3 times each week (depending on the Season). Rossini's offers front line ocean views, where guests enjoy the finest food in the most exceptional of settings. So if you want Pavarotti with your pasta, or Show-Songs with your steak, this is the only place to come!
Maspalomas Carnival 2006
In March 2006, I had the honor of topping the bill at the third biggest carnival in the World! This carnival is the most widely known, after ' Rio de Janeiro' and 'New Orleans'. The audience on the night topped 10,000 people, and the TV coverage went live throughout Spain, other countries in Europe, and to the whole of South America to an estimated audience exceeding 60,000,000
Cabaret. Gran Canaria
Summer 2003 onwards
I have the pleasure of performing in Gran Canaria's top vacation clubs, hotels and at private functions. Where I entertain guests from all over Europe.
The Palladium - London
August 11th 2002
Once again, I took a lead role in a production ('2002 Stars') of musical numbers and dance routines at the London Palladium. I appeared in 20 numbers during this show including routines from Guys and Dolls, La Cage aux Folles and many others..
Summer Season Residency
July – August 2002
I performed at the Grand Hotelin Swanage every Friday night throughout the summer season. Varying the Performance, throughout the evening to include various styles of music, so there was something for everyone to enjoy.
T.V. Dream Wedding
March 4th2002
I was privileged to be asked, not only to sing during the signing of the register, for UK Living's 'Dream Makers' Dream Wedding special, but also did a 45 minuets cabaret spot after the reception. This programme aired in September 2002.
Article in 'The Stage'
October 25th 2001
(Following a showcase in New Milton). "David Searle clearly takes his singing seriously. He is tailor made for character roles in the West-End Musicals. With shades of Michael Ball, he gave us a rousing and enjoyable set".
The Pink Ball
August 3rd, 2001
I sang in the opening Ball of Bournemouth's first 'Pride' Weekend. I appeared alongside other acts, such as Katrina (formerly of 'The Waves'), & Claudette Pace, Both Eurovision Song Contest winners, and the chart topping pop group 'The Venga Boys'. In fact, I have now sung with no less than three Eurovision winners.
The Palladium - London
January 14th2001
I took the principal role in a benefit evening staged at the London Palladium - 'Stars on the Rise'. I had the honor of singing the first song in the production (which was a solo). In all, I was on stage for 14 numbers. I then had to make a speech and a presentation. The company who staged this production have asked me to take the lead in another performance at the London Palladium on the 11thAugust 2002.
Royal Albert Hall - London
September 10th2000
Sang backing for four 'Les Miserables' performers, in a production of "Beyond the Barricades". Before an audience of 3500 – 4000 people
There are many other gigs, shows and events where I have had the privilege of performing, including singing for Prince Charles and Princess Diana shortly after their marriage. But you probably wouldn't have time for the whole list! Any further information can be obtained by asking me to send you a more detailed resume by email.
go to:
Main Page, Includes the e:mail link
Appearances, Where you can find me this month
Photo Gallery, Loads of photos and video clips to view and download if you like.
Audio files, These are large files, you'll need to be patient while they download.
Albums Some of the albums I've recorded. For info on new albums, please feel free to e:mail me.